31. August 2020
MEYER-MAYOR international
MEYER-MAYOR conquers Singapore
The textile classics "Made in Bütschwil" - "Made in Toggenburg" are also becoming increasingly popular internationally. For example, the innovative start-up "HELVETIA and SONS" has added kitchen towels from
MEYER-MAYOR
to the range of its new pop-up store in Singapore. The kitchen towels of the "Alfredo Häberli" collection in particular have already become a real bestseller in Singapore.
30. August 2020
Larger weaving capacity
New machines for the weaving mill in Bütschwil
In order to be able to react even more flexibly to extensions of the product range and the increasing demand for the popular tableware and kitchen towels of the
MEYER-MAYOR
and KULTS
CH
TOFF brands, rigotex ag will put two more weaving machines from SULZER-RÜTI into operation in mid-September. Following this expansion of the company's own weaving manufacture WEBS
CH
TOFF, ten SULZER-RÜTI weaving machines will be used to produce high-quality home textiles "Made in Bütschwil" - "Made in Toggenburg".
In German only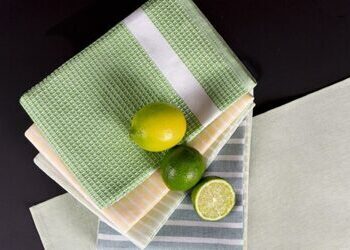 9. August 2020
New articles in the online shop
New products from
MEYER-MAYOR
and KULTS
CH
TOFF in the Online-Shop
Discover fresh summer colours, elegant borders and ALPMUSIK with Swiss linen.
Fresh summer colours characterise the charcater of the SORBETICO line by
MEYER-MAYOR
.
MANDARINO, LIMONE, LAMPONE, LAVANDA, MIRTILLO AND PISTACCHIO sound like summer, ice cream and Mediterranean joie de vivre. All articles match in colour and can be combined attractively: The durable half-linen quality dries lint-free.
Links in to the articles in the shop
Sorbetico Querstreifen Weiss M490

Sorbetico Multicolor gestreift M491
Elegant borders from
MEYER-MAYOR
Whether for your own kitchen or as a gift, the borders of
MEYER-MAYOR
underline elegance with unobtrusive charm. All articles are made of the proven half-linen quality, which does not fluff when drying and are available in the colours red, taupe and black.
Links in to the articles in the shop
ALPMUSIK by KULTS
CH
TOFF also with Swiss linen
Design Alpmusik brings Swissness into the kitchen. Especially Swiss is the Aritkel M495 woven from Swiss linen.
Innovative Emmental farmers cultivate the natural fibre flax with great passion and with great respect for our environment. The flax fibre is finely spinnable and has a high tensile strength. In addition, flax is bactericidal and dirt repellent by nature.
From this Swiss natural product we produce the exclusive linen cloth Swiss-Alpmusik in our weaving mill in Toggenburg. 100% Swissness, grown in the Emmental.
Links in to the articles in the shop

Alpmusik Halbleinen aus Schweizer Leinen M495
6. July 2020
Summer holidays 2020
Wir machen Ferien vom 27. bis 31. Juli 2020
In dieser Woche finden keine Speditionen statt!
Vom 03. bis 07. August 2020 ist unser Bürobetrieb reduziert besetzt, Speditionen nur auf Anfrage.
Wir freuen uns, Sie ab dem 10. August 2020 wieder bedienen zu dürfen.
Ihr rigotex-Team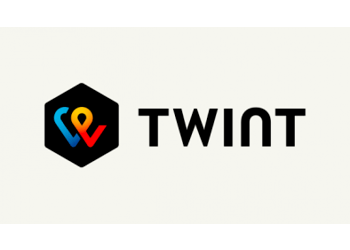 20. June 2020
WEBSCHTÜBLI new with TWINT
WEBSCHTÜBLI new with TWINT

In our factory-, self-service shop, the WEBSCHTÜBLI, you can now pay with TWINT.
Open TWINT, select QR Code, scan QR Code - done.
Current MEYER-MAYOR and KULTSCHTOFF kitchen textiles and many bargains simply pay with TWINT.
The WEBSCHTÜBLI is open:
Monday to Sunday
08:00 to 20:00
6. June 2020
EXPORT - Versand
Betriebsferien Sommer 2020:
Die letzten Export-Speditionen VOR den Ferien erfolgen am Donnerstag, 16. Juli 2020.

In den KW 31 und 32 finden KEINE Export-Speditionen statt.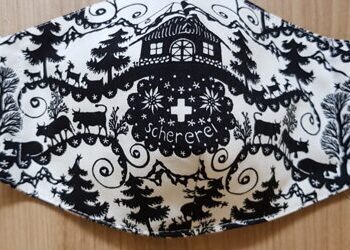 11. May 2020
WEBSCHTÜBLI opened again
WEBSCHTÜBLI OPEN
Our self-service shop, the WEBSCHTÜBLI, is open again. You will find current MEYER-MAYOR and KULTSCHTOFF kitchen textiles and many bargains.
Only at WEBS
CH
TÜBLI we offer Swiss-made, washable, reusable protective masks. In our KULTS
CH
TOFF-Design Schererei.
The WEBS
CH
TÜBLI is open:
Monday to Sunday
08:00 to 20:00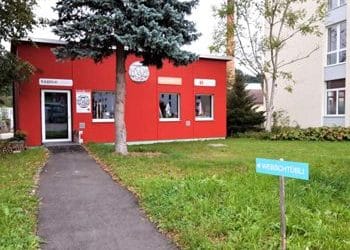 11. October 2019
WEBSCHTÜBLI - The only factory shop
Made in Switzerland
Rigotex produce the world largest assortment of kitchen textiles "Made in Switzerland" in Bütschwil. Here in Bütschwil the fabrics are designed, yarn ordered to be dyed, towels woven and sewed.
Our WEBSCHTÜBLI is the only factory shop for the brands MEYER-MAYOR and KUTLSCHTOFF.
Visit our self-service shop. It is open daily: Monday to Sunday from 8 pm until 8 am.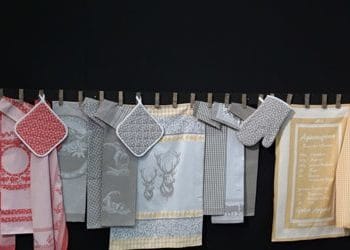 1. December 2019
ONARIS 2020 Zurich
We will exhibit at:

ORNARIS-ZURICH: 12. to 14. January 2020
for specialised dealers only
10. May 2019
TOM 2019 - Attraktives Messeangebot
Wir sind an der Toggenburger Messe TOM 2019
MEYER-MAYOR und KULTSCHTOFF Produkte für Küche, Wohnen und Bad zu günstigen Messekonditionen.

Freitag 10. Mai bis Sonntag 12. Mai 2019 stellen wir anlässlich TOM 2019 in der Markthalle Wattwil aus.

Unsere hochwertigen Produkte entstehen in der Schweiz - im Toggenburg - in Bütschwil. Heimatverbunden sind unsere Motive, insbesondere der Marke KULTSCHTOFF. Klassisch und vielfarbig elegant sind die Küchentextilien der Marke MEYER-MAYOR.

gefärbt – gewebt – genäht
100% swiss made
Wir freuen uns auf Ihren Besuch.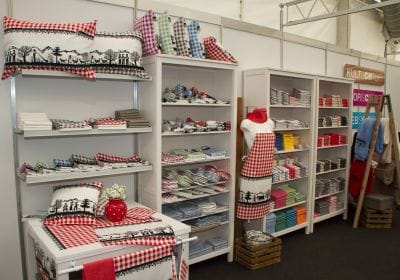 Unser Stand 2016
28. February 2019
WEBSCHTÜBLI extended for MEYER-MAYOR
We call our factory outlet in Bütschwil WEBSCHTÜBLI.
From now on «WEBSCHTÜBLI» offers in self-service newly an assortment of the well-known brand MEYER-MAYOR as well as the products of the brand KULTSCHTOFF.
The range of home textiles in the outlet is growing.

Therefore, the outlet is moving into bigger rooms at Soorpark. The opening will take place from 30. to 31. March 2019, 10-16 o'clock. During this time the WEBSCHTÜEBLI is operated.
Visitors who provide a clipped newspaper advertisement will get a small gift.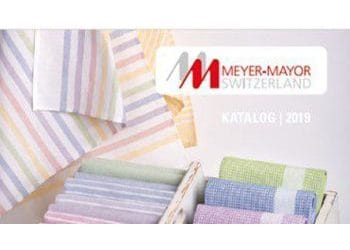 29. January 2019
MEYER-MAYOR - New catalogue 2019 available
Dear customers,
Dear friends of Swiss quality,
We presented the new MEYER-MAYOR catalogue 2019 to our specialized dealers in January at the Ornaris in Bern.
The take over of the activities from MEYER-MAYOR in the last year made it possible to sharpen the two brands MEYER-MAYOR and KULTSCHTOFF. This allowed us to further develop inspiring new designs and colors for MEYER-MAYOR.
The new products presented in the catalogue are sold by our specialized dealers.
Your team located in Bütschwil